❖

Drills Reshapening Machine DRM-2013S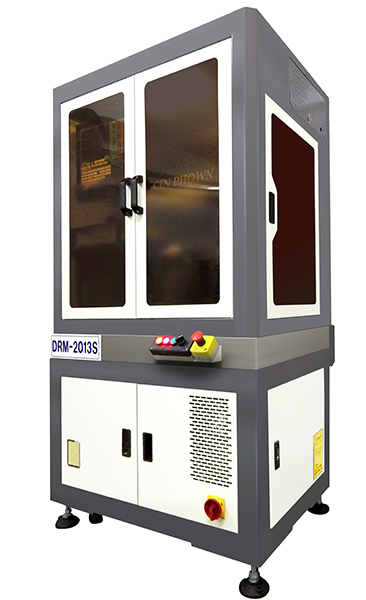 Grinding scope (both single- and dual-blade grinding are supported).

Grinding capacity: 500~600 pcs/hr (good product number guaranteed).


Applicable diameters of drill bit shaft: 2.0mm & 3.175mm (compatible).

Drill bits workable with or without ring-loading.

Dual-path automated cyclical input/output feeder system: Effectively increases machine availability by eradicating material mixing and labor-hour slack time entirely. Input capacity (drilling in que): 450 pcs. Output capacity (finished product): 450 pcs. Defect product hold capacity: 100 pcs. Compatible with 50-piece or Euro magazines with input/output feeding capacity up to 900 pcs.

Secondary compensation drilling: User-adjustable amount of feed.

Adjustable drill point angle (110 – 150 degree). The first face angle is adjustable between 7 to 15 degree; the second face angle is adjustable between 25 to 30 degree. Adjustment time required is approximately 1 minute.

Equipment movement precision: 0.2 μm.

12 options of geometric accuracy detections for drill bit.

Total-length drill job number control: Reduces purchases of new drill bit by effectively controlling number of drill job.

Quantitative management of drilling: This unit may be linked to on-site servers to provide easy to read statistic and analytical reports in spreadsheet template.

Required operator: 8 to 10 machines per 1 operator.

In-built dust gathering function: Effectively protects equipment precision and lens sharpness from being compromised by powders and dusts and reduces damage to operator's health.
Model number : DRM-2013S

Dimension(L*W*H) : 1100mm x1100mm x 2200mm

Weight : 925kg

Repointing diameter range :




(1)0.075mm~0.25mm (2) 0.2~0.45mm (3) 0.5~1.2mm

Working environments requirements :




1 : Temperature and Humidity : temp 24 ℃±2 ℃, humidity 55%RH±10%RH




2 : Central dust collector requirement : a central system mode of dust collector is a must




3 : Pipe diameter requirements : 76mm




4 : Vacuum motor power requirements : 45w

Power supply : 220V~Single phase 50/60 HZ

Startup current : 1KW ; Power consumption : 0.5KW/hr

Air consumption : 22L/min (Approx.)

Air compressor requirement : need to pass through a freeze dryer 5bar~6.2bar (with a moistureless dry air)

Re-pointing capacity : 450 pieces / per hour