❖

Automatic Drill Bit Inspection Machine Desktop Model BCM-2002E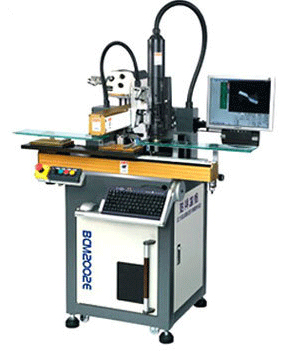 To provide a total solution for drill bit defect detection, CIN-PHOWN invents this advanced "Drill Bit Inspector BCM-2002 Evolution".
This equipment can auto focus and measure the drill bit point angle and UC fluent length, no matter drill bit with ring or without ring.
About load and unload section, it is suit for 3 main packages in the industry (include badness discharging and so on).This design can improve your QC efficiency and inspection data quality.

Loading area: Brand new loading section design, it suits main 3 packages in the industry. Drill bit can be auto loaded and unloaded, by the way the badness will be discharged. The buffer area for good ones and badness each is 200 sets.
Multi-magnification within one device. This design can save your time for changing the objectives and improve the operating ability. We use high D.O.F and high resolving power stereo microscope to take the image of the drill bit. One question for you: if you cannot see the whole geometry of drill bit clearly, how can you make measurement precisely? CIN-PHOWN integrates the mechanism and optics technology to help you to get perfect measurement data.

CIN-PHOWN develops the spinning function to measure the point angle of drill bit and its UC fluent length (suit for drill bit with or without ring). By this design you can save more time and get better data reliability than traditional methods. If you use this equipment, you can strengthen your drilling process compatibility:
A: Control the fluent of the UC.
B: Increase the polish time for drill bit.


◪

Statistical data analysis
It can distinguish bad piece form good piece in daily work (express as statistical analysis), user can improve drill bit quality according to the data.

Statistic data includes distributed plot; statistic table and so on. User can get these data real time or printing them when he is ready to improve the process.

◪

Equipment characteristics
Precise as SEM, efficiency as AOI.

Manage the UC fluent length and increase the drilling process capability easily.

Auto Running (focusing, loading, unloading, measuring, easy operation) to get Safe and reliable inspection process.

Report: Analysis with both image and data to help you solve and improve the difficulty easily.

Drill bit (Badness and good ones) can be discharged for further management.

◪

The BCM-2002E measurement data can correlate to the SEM's