❖

Automatic PC Board Ringloading Machine CRM-2000T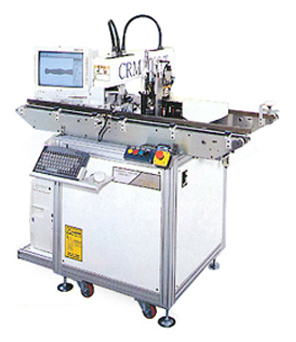 ◪

System and ring-loading depth control
Use CCD noncontact method to measure drill bit diameter & depth of ring loading, this will not cause the drill bit breakage.

Integrate high resolution image processing technique and micro stepping motor control system to obtain stable & capable ring-loading depth accuracy.

Adapt teaching mode compensation method to avoid man made mistake.

Drill bit breakage & drill bit diameter mismatch will be discharged to badness area.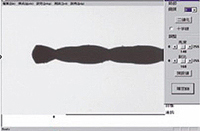 Ring loading accuracy/ring reload accuracy: 0.02mm/0.025mm
Diameter inspection accuracy: 0.025mm
◪

Operation Window and Software
Window operation interface and all setting items are easily to recognize, meanwhile it is easy for operator to use.

Parameter setting modulation design, daily production (goods & odds) SPC data can be reabout or save for reservation.

We preserve the interface with drill bit inspection machine, so they can work together.


◪

Innovative bidirection working mode
We can load ring to the polished or new drill bit or just check its diameter and transfer the new drill bit to the ADC panel or drill bit package(as diagram A).

We can transfer the drill bit which must be polished from ADC panel or drill package to the unloading package for drill bit to be polished(as diagram B)


High throughput (28units/min), high precision(depth error<=20um)High safety (drill bit contact free).


Stable and High precision P&P positioning system (Drill bit will not breakage), & production quality.


• Drill bit breakage & drill bit diameter mismatch will be discharged to bandness area.

◪

Spec Of drill bit loading package and ADC danel
Fit all brand of drill bit packages & ADC panel HAM, UNION TCT, TOSHIBA, TOP, KLINGELEBERG, SCHMOLL, PLURITEC, POSALUX, ESCELLON, KEY, CINPHOWN, all kind of EURO STRIPS and so on.

It can also use the package of 10 drill bits Euro strip and package of 50 or 100 drill bits sponge box.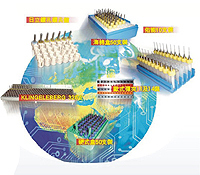 ◪

Work station process flow
1.Buffer area
2.Badness area
3.Reverse discharging area
4.Unloading area
5.Diameter inspection area
6.Ring-loading area
7.Ring-unloading area
8.Loading area