❖

Automatic Drill Bit Inspection Machine BCM-2001T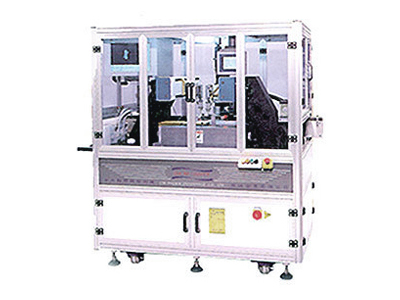 (High accuracy, high efficiency, high quality) is the maxim of CIN-PHOWN company.
Humanistic management, of CIN-PHOW Company. So we last the zealousness heat to supply a good service for PCB industry.
A machine "bcm-2001T" (automatic drill bit inspection machine)is created. It not only establish inspection standard of drill bit profile but also record, analysis inspection results by statistics methods to control quality of drill bits.


Suitable for all brand package types, no needs for additional fixture.

Package coordinates can be set by user to insure P&P movement stability.

Buffer area capacity:300~500pieces.

By efficient circulation working stages design ,it does not need to stop the machine when feeding a new package.

◪

Ring Loading Polished Drill Bit Depth Compensation

Ring loading accuracy: 0.02mm, loading depth compensation accuracy 0.02mm.

Adapt non-contact image processing, so it will not cause drill bit damage.


Suitable for all brand of packages (including direct put euro-strip, Hitachi ADC panel and so on).

Buffer area (300~500pieces).

Accuracy & stable pick and place system to avoid missing, mixing dislocating, breaking the drill bit.


After inspection, it can pick up the bad drill bits to the badness area (buffer area capacity: 300 pieces).

When inspection, the software can make statistical analysis of data and print image of drill bit shortages at the same time achieving on line monitoring station.

PC monitor and touch panel communication interface.

All messages can be read on the monitor (Including image processing, maintenance block, parameters setting and so on).


The machine has the following important technology:

Use high resolution image processing skill, and user can input inspection, magnification spec, parameters and tolerance range of the drill bit spec inspected on the touch panel.

The machine can distinguish 11 different shortage of the drill bit.

The machine has inspection management software, so supervisor can easily control the production.

Automatic standard drill images parameters compensation according to optic system operation change to increase the stability & usage rate of the machine.

Drill bit images profiles can be classified and stored according to inspection items. Supervisor can use the data as are reference to improve the quality of drill bit.

Material

Drill bit shank: 175ψ
Drill bit diameter: 10.1-1.5ψ
Ring: 4.5t/7.5ψ

Function

Drill bit blade edge inspection/
Diameter inspection/Ring load/Depth compensation

Magnification

200~500

Inspection accuracy

0.001mm

Depth of ring loading accuracy

0.02mm

Thoughput

20pieces/min

Computer equipment

P4 processor/WIN2000 software

Dimension(mm)

1900X920X1820

Weight(Kg)

1700